Starting on the 1st of June 2021
and for our greatest pleasure,we are announcing the reopening of all our services.
You will be welcomed in our establishment, with on-site catering possibility.Our terrace will be pleased to have you if you are passing by.
Tracing its origins all the way before the French revolution, the Eskualduna house has sailed through the ages.
Mule-drivers originally stopped here when travelling across the Spanish border, while carrying goods from Pampelune to Pau.
From the first coaching-inn with Bed & Breakfast, the Hotel & restaurant of 36 rooms opens its door to welcome everyone in the heart of the Pays Basque.
Craft lasting memories with family and friends
Very good welcome meal and hotel! Nothing to say except that we had a very good stay.
Geraldine
Amazing place, wonderful food, lovely people. We come back year after year and it just gets better. Had my wedding here, it was perfect.
James
The view was lovely, overlooking the Basque countryside. We will return next year and we cannot wait. Thank you to all at Eskualduna!
Anglais
The latest news from Chez Katina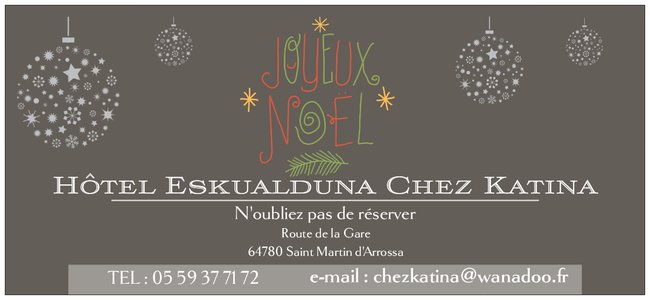 The team at Hotel Chez Katina wishes you a very happy holidays! For the end of the year, we offer a unique destination for a
Read more »
We are always here to help with any further enquiries or questions. Please do not hesitate to contact us and we will get back to you as soon as we can!